The lake formerly known as Calhoun is officially restored by the city to its original Dakota name, Bde Mka Ska. A sculpture which capitalizes on the pain of indigenous genocide to produce heady conceptual art aimed primarily at non-Natives is destroyed following widespread condemnation, with the offending museum promising to hire Dakota consultants in the future. Based on these incidents alone one could argue, and indeed some have, that colonialism in Minnesota is fading away. Yet at the same time, Hennepin County Sheriff's Office personnel display remarkable brutality in assisting their North Dakotan counterparts and the National Guard in attacking water protectors at Standing Rock, some of whom are direct descendants of Dakota who were displaced from what became Hennepin County by the predecessors of our modern Sheriff's Office. Meanwhile, Fort Snelling, once used as a concentration camp for the Dakota prior to their expulsion from Minnesota, is used by ICE as a pre-deportation detention center for immigrants, many of whom are of indigenous Chicanx heritage.
What can we make of these contradictions? Are we inching our way forward bit by bit, slowly excising the cruelty demonstrated by Trump and the oil companies from a wider American project that at its core tends towards ever-increasing degrees of freedom for all? Or do recent concessions made by colonial institutions, concessions that come for the most part in the realm of the symbolic rather than the structural, function primarily to reduce pressure on the material day-to-day functioning of colonialism? There are no universal answers to these questions, and we certainly aren't suggesting forsaking symbolic and cultural arenas of struggle, but is important to examine the legacy of the institutions that are now paying lip service to decolonization. When we do so it is clear that these institutions, whether public or private, only ever act to preserve their own existence, an existence that is founded upon Native genocide. As such, the only truly decolonial course of action that the city, the police, or the museums could ever undertake is the only one that they never will, the path leading to: their own self-destruction.
Europeans passed through this land intermittently from the time when Father Louis Hennepin first kicked off a long tradition of bullshit and deception by chronicling fantastical beasts and barbarous savages on his 1680 journey down the Mississippi, but it wasn't until 1805 that America established a permanent presence here. By that point the U.S. had realized that all-out war against every indigenous nation on Turtle Island at once was a prohibitively costly proposition, and so it turned to more subtle methods of fulfilling its genocidal expansionist fantasies, methods it has been refining ever since. Zebulon Pike was commissioned to negotiate a treaty to give U.S. claims of sovereignty over the area a veneer of legitimacy. Like practically all subsequent treaties between the U.S. and the Dakota, including those of 1833, 1837, 1851, and 1857, this treaty was made with a handful of Natives who had little authority to speak for anyone beyond their immediate kin, under threat of violence, and lubricated by copious amounts of government-supplied liquor. The paltry payments guaranteed by these treaties in return for the Dakota forsaking much of their lands, and with them their ability to live their traditional lifestyle, were delivered late, if at all, and the government made little attempt to keep its subjects from violating the treaties by settling on land reserved for the Dakota. At the same time the government used resistance by Natives angry over treaties not being honored, as well as by those who had never recognized the treaties to begin with, as justification for voiding the treaties and moving in with force to steal even more land.
These offenses, and the havoc they wrought on the Dakota's ability to live in their traditional way as they had for centuries, caused tensions to come to a head in 1862. In August, with their people starving, a group of Dakota confronted Indian Agent and State Senator Thomas Galbraith and trader Andrew Myrick, one of many whites who had gotten rich siphoning off treaty payments guaranteed the Dakota, demanding the food and supplies owed them. Galbraith refused to distribute the food, and Myrick reportedly said "if they are hungry, let them eat grass." Three days later Myrick was found dead, his mouth stuffed with grass. Dakota across the state rose up, destroying multiple settlements in an attempt to drive the invaders from their land once and for all. Major victories were won by the Dakota at New Ulm and Birch Coulee, prompting Governor Alexander Ramsey to petition President Lincoln to mobilize troops in order to "exterminate or otherwise drive the Sioux forever beyond the border of the state." Lincoln granted Ramsey's wish, lending the colonizers a large advantage in numbers which led to a decisive victory at the Battle of Wood Lake along the Minnesota River in September, at which U.S. troops were commanded by Colonel Henry Sibley, another Minnesotan who made a fortune stealing treaty payments owed to the Dakota, for whom parks, schools and counties across the Midwest are named. Following their surrender, 38 Dakota warriors were executed in Mankato on spurious murder charges, and a bounty of $25 per scalp was placed upon all Dakota, including children. The majority of the Dakota were rounded up into a concentration camp at Fort Snelling and forced to endure the harsh winter with inadequate supplies, leading to the death of hundreds. Following this they were exiled to surrounding states, although some eventually returned to Minnesota to pick up the pieces of their lives as best as possible despite the constant threat of colonial violence.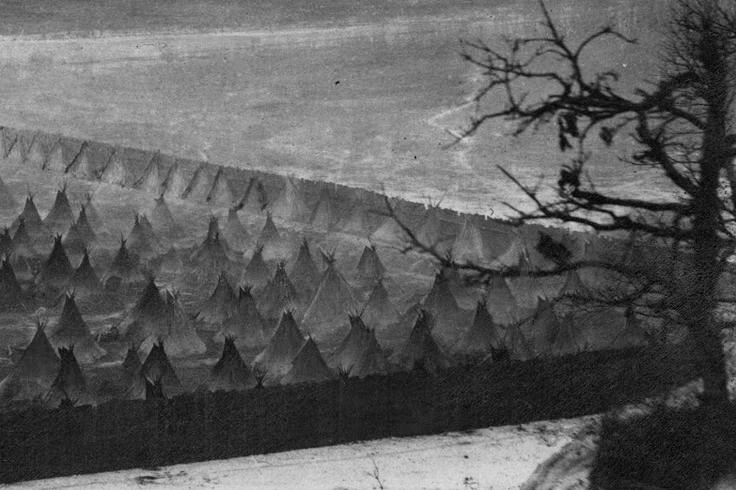 The centrality of these events to the continued existence of the Minnesota we know today cannot be overstated. The twin industries which built the economy of the state, logging and mining, were only possible because of the removal of the Native population, and the destruction wrought by these practices guaranteed that even once the industries moved on the reclamation of these lands and the traditional life-ways entwined with them would be impossible. Furthermore, Minnesota's modern economy, having largely shifted away from timber and mining, is still completely founded upon Native genocide. For example, the Mayo Clinic and the Walker Art Center, juggernauts within their respective fields that have positioned Minnesota as a leader in medicine and the arts, were both founded by active perpetrators of genocide.
William Mayo worked as a doctor for the U.S. military during the Dakota War. After the execution of the 38 at Mankato, Mayo stole the body of Maȟpiya Akan Nažiŋ, one of the Dakota warriors, and used it to teach anatomy and surgery to his sons, who later became his business partners in the medical practice that would evolve into the modern Mayo Clinic. The Mayo Clinic has carried on this legacy since then, reinforcing colonialism in numerous ways, such as developing multiple life-support technologies that revolutionized high-altitude flight in the mid-20th century, paving the way for subsequent colonial wars in the Far and Middle East. Even the Mayo Clinic's more positive medical activities cannot be unentangled from the context which birthed them. For example, one of the Mayo Clinic's specialities is in researching treatments for cancer. While it is obvious that we need such treatments, we must also remember that skyrocketing cancer rates are a direct result of the destructive colonial system of which the Mayo Clinic is an integral part. The Mayo Clinic's perfection of expensive cancer treatments serves to insulate those who are destroying our world from (some of) the consequences of their actions, allowing them to continue with business as usual. Those who can't afford such treatments, however, are out of luck. It is no accident that Native people on Turtle Island suffer the highest rates of just about every disease linked to environmental destruction.
Thomas Walker, meanwhile, made the fortune with which he founded the Walker Art Center in timber, stripping the forests of Minnesota and sending them packing down the Mississippi en route to becoming the richest man in the state. The precious contemporary artworks, the shiny modernist building, the fancy restaurant; all of it is paid for with the blood and suffering of the Native people who lived in the forests that once covered much of this state. Even when the Walker shines its spotlight on radical art created to challenge colonialism or capitalism, the context within which it frames these works, that of a sterile gallery staffed by Target-branded museum guards, transmutes works that may have once been challenging and mobilizing into commodities for passive contemplation, neutralizing any threat that they may pose to the status quo. In light of this legacy, can we expect meaningful change to come out of promises made by the Walker to solicit Native input in the future? Or, to adapt a critique made by Dakota scholar Waziyatawin regarding the Minnesota Historical Society, will the Walker "reject the most critical Dakota voices and perspectives as insignificant and… simply use their new Dakota employees as mouthpieces to express the party line," thereby maintaining the Walker's authority over cultural debates in Minnesota? The answer is never wholly black-and-white, and as a non-Native I do not intend to criticize Natives who see potential in self-consciously exploiting the resources of colonial institutions for their own ends. However, as someone who has their own desires which lead towards confrontation with the colonial machine, I find it extremely important to keep this warning of Native author Zig-Zag in mind: "any discussion of decolonization that does not take into consideration the destruction of the colonial system and the liberation of land and people can only lead to greater assimilation and control. The demand for greater political and economic power by chiefs and councils, although presented as a form of decolonization (i.e., "self-government"), only serves to assimilate Indigenous peoples further into the colonial system." Will the Walker hiring Dakota or the city of Minneapolis renaming a lake hasten their own destruction? Clearly, the answer is no. Only by working outside of the colonial system, on our own timelines using our own methods and desires, can we get closer to such a goal.
In researching this essay I drew primarily from Waziyatawin's What Does Justice Look Like?, which outlines how Minnesota was stolen from the Dakota and lays out some possible courses of action, as well as the anonymous entry on the Dakota War in The Struggle is Our Inheritance, a compilation of radical Minnesota history. For further analysis of, among much else, the role of culture in decolonization and the potential for decolonial rhetoric to become co-opted by colonial forces, the work of Zig-Zag/Gord Hill is invaluable, particularly Colonization and Decolonization. These last two works can be found for free online.